There have been a lot of good things written about UK austerity since my post last week. Here is a quick round-up: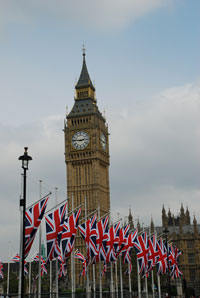 Yesterday, Veronique noted that the meanings of words often get jumbled when politicians and pundits talk about austerity. Tax increases, spending cuts, and structural reforms all fall under the label "austerity." But only some of these measures actually work. And only some of them are actually being tried. Maybe it is time for some new words?
On Sunday, Anthony Sanders posted a number of informative charts showing recent trends in the UK economy, including: repeated dips into negative GDP growth over the past couple of years, massive sovereign debt, rising unemployment rates, and an over-built financial sector. On the plus side, the UK is still paying comparatively low interest rates on its debt and its housing market has not fallen as far the US's.
Lastly, Anthony Evans sends me this Allister Heath piece which sheds some light on what has actually happened in the UK:
Current spending rose in cash terms from £604.8bn to £617bn in 2011-12. The OECD says UK public spending was 49.8 per cent of GDP in 2011. Public sector net borrowing remains at a catastrophic 8.3 per cent of GDP. All of this remains utterly unsustainable – yet the public have wrongly been told that the UK "is tackling its debt". Osborne has been a disappointing chancellor – but not for the reasons cited by the left.
Photo by DoctorWho/flickr